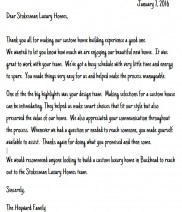 Dear Stokesman Luxury Homes,
Thank you all for making our custom home building experience a good one.
We wanted to let you know how much we are enjoying our beautiful new home. It was great to work with your team. We've got a busy schedule with very little time and energy to spare. You made things very easy for us and helped make the process manageable.
One of the the big highlights was your design team. Making selections for a custom house can be intimidating. They helped us make smart choices that fit our style but also preserved the value of our home. We also appreciated your communication throughout the process. Whenever we had a question or needed to reach someone, you made yourself available to assist. Thanks again for doing what you promised and then some.
We would recommend anyone looking to build a custom luxury home in Buckhead to reach out to the Stokesman Luxury Homes team.
Sincerely,
The Heyward Family